The single most useful - and arguably entertaining - thing your child can do to prepare for secondary school life is to read regularly over the summer. This infographic – based on American studies – demonstrates the difference that a small amount of reading can make.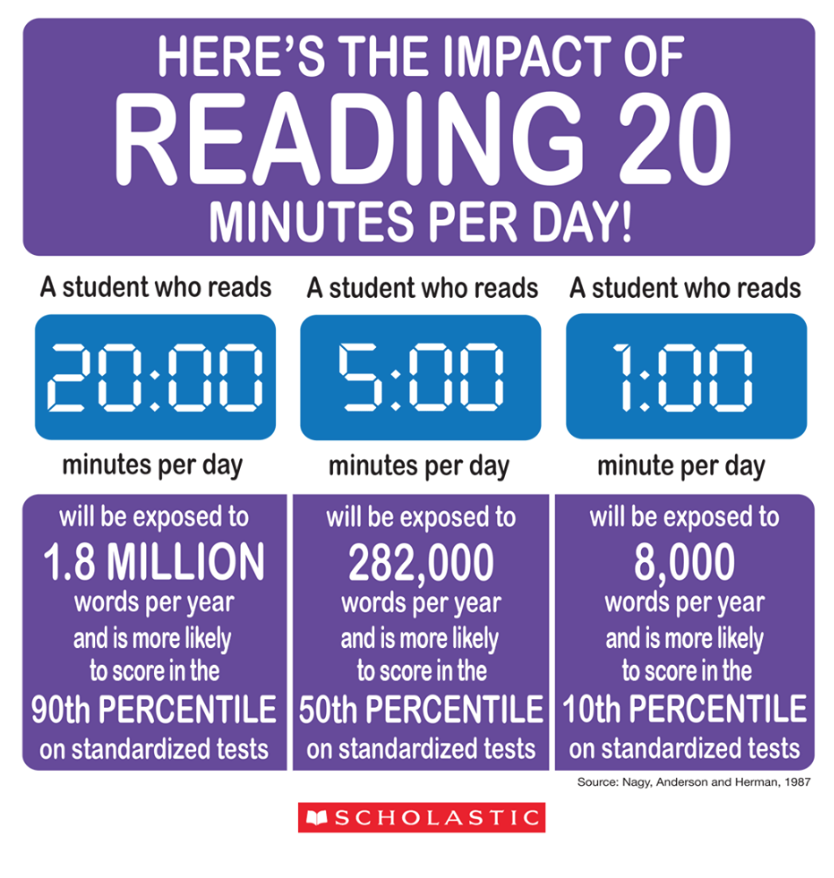 Reading leads to a better vocabulary. An extended vocabulary has been linked to better exam success and also to better life chances. The benefits of reading extend well beyond the classroom. Reading for pleasure brings with it a range of benefits from increased empathy, improved mental health and reduced stress levels, as well as improved intelligence.
Here is a list of recommended reads – created by our Year 7 students at NHGS. Please show the list to your child and, through the summer holiday, encourage them to meet the 20 minute a day challenge. It would be helpful if you would talk to your child about what they are reading, and share with them the things that you enjoy reading. Regular reading may both help to prevent the transition dip and provide some interest and stimulation over the long summer break.
Miss A L Kent
Head of English
Year 7 Recommend
A Pocketful of Stars - Aisha Bushby
A Strange Kind of Brave - Sarah Moore Fitzgerald
Artemis Fowl and the Eternity Code (whole series) - Eoin Colfer
Cherry Crush (whole series) - Cathy Cassidy
Cookie - Jacqueline Wilson
Demon Dentist (or any book by this author) - David Walliams
Girl Online - Zoe Sugg
Golden Goal (whole series) - Dan Freedman
Has anyone seen Jessica Jenkins? - Liz Kessler
Jemima Small versus the Universe - Tamsin Winter
Jessica's Ghost - Andrew Norriss
Percy Jackson and The Last Olympian (whole series) - Rick Riordan
Point Blanc and other Alex Rider novels - Anthony Horowitz
Shine - Candy Gourlay
Skellig - David Almond
Skulduggery Pleasant series - Derek Landy
The Bad Beginning – series of Unfortunate Events - Lemony Snicket
The Cherub Series - Robert Muchamore
The Disconnect - Keren David
The Unforgotten Coat - Frank Cotttrell Boyce
The Dark Is Rising - Susan Cooper
The Enemy - Charlie Higson
The Harry Potter Series - J. K. Rowling
The Hobbit - J.R.R.Tolkien
The Ingo Chronicles - Helen Dunmore
The Letter for the King - Tonke Dragt
The One and Only - Sophie Mackenzie
The Power of Five Series - -Anthony Horowitz
The Wheel of Surya - Jamila Gavin
Tom Gates - Liz Pichon
Unhooking the Moon - Gregory Hughes
War Horse or anything by this author - Michael Morpurgo
Welcome to Nowhere - Elizabeth Laird
When Hitler Stole Pink Rabbit - Judith Kerr
Where the River Runs Gold - Sita Brahmachari
Wonder - R.J. Palacio
The Dog Who Saved the World or The 1000 Year Old Boy - Ross Welford
The House with Chicken Legs - Sophie Anderson
Soldier Dog or A Horse Called Hero or Captain - Sam Angus
Two Can Keep a Secret - Karen McManus
Malamander - Thomas Taylor
The Ghost Boys - Jewell Parker Rhodes
How to Rob a Bank- Tom Mitchell