Here are some suggestions of fiction and non-fiction (for students and parents).
Click here to jump to the non-fiction recommendations.
FICTION

The Unlikely Hero of Room 13b

Teresa Toten

When Adam meets Robyn at a support group for kids coping with obsessive-compulsive disorder, he is drawn to her almost before he can take a breath. He's determined to protect and defend her, to play Batman to her Robin, whatever the cost. But when you're fourteen and the everyday problems of dealing with divorced parents and step-siblings are supplemented by the challenges of OCD, it's hard to imagine yourself falling in love.
---

Face
Benjamin Zephaniah
In this startling debut novel from Benjamin Zephaniah, the author tackles the moving and compelling story of a young man, Martin, whose life is completely changed when his face is badly scarred in a joyriding accident. Brilliantly written with a real ear for dialogue, this is Benjamin Zephaniah breaking new boundaries.
---

Every Day
David Levithan
Each morning, A wakes up in a different body. There's never any warning about who it will be, but A is used to that. Never get too attached. Avoid being noticed. Do not interfere. And that's fine – until A wakes up in the body of Justin and meets Justin's girlfriend, Rhiannon. From that moment, the rules by which A has been living no longer apply.
This is a stunningly original novel that will make you view the world from a different perspective.
---

The Perks of Being a Wallflower
What is most notable about this funny, touching, memorable first novel from Stephen Chbosky is the resounding accuracy with which the author captures the voice of a boy teetering on the brink of adulthood. Charlie is a freshman. And while he's not the biggest geek in the school, he is by no means popular. He's a wallflower - shy and introspective, and intelligent beyond his years, if not very savvy in the social arts. We learn about Charlie through the letters he writes to someone of undisclosed name, age and gender; a stylistic technique that adds to the heart-wrenching earnestness saturating this teen's story. Charlie encounters the same struggles many face in high school--how to make friends, the intensity of a crush, family tensions, a first relationship, exploring sexuality - but he must also deal with the devastating fact of his best friend's recent suicide. Charlie's letters take on the intimate feel of a journal as he shares his day-to-day thoughts and feelings:
"I walk around the school hallways and look at the people. I look at the teachers and wonder why they're here. If they like their jobs. Or us. And I wonder how smart they were when they were fifteen. Not in a mean way. In a curious way. It's like looking at all the students and wondering who's had their heart broken that day, and how they are able to cope with having three quizzes and a book report due on top of that. Or wondering who did the heart breaking. And wondering why."
With the help of a teacher who recognises his wisdom and intuition, and his two friends, seniors Samantha and Patrick, Charlie mostly manages to avoid the depression he feels creeping up like ivy. When it all becomes too much, after a shocking realisation about his beloved late Aunt Helen, Charlie checks out for a while. But he makes it back to reality in due time, ready to face his sophomore year and all that it may bring. Charlie, sincerely searching for that feeling of "being infinite" is a kindred spirit to the generation that's been slapped with the label X.
---
NON-FICTION

A Mindfulness Guide for the Frazzled
Ruby Wax
Ruby Wax lays out her mindfulness techniques, making simple changes that give us time to breathe, reflect and live in the moment. With mindfulness advice for relationships, for parents, for children and for teenagers, and a six-week course based on her studies of Mindfulness Based Cognitive Therapy with Mark Williams at Oxford University, A Mindfulness Guide for the Frazzled is the only guide you need for a healthier, happier life. Ruby's approach to Mindfulness is something that can help us all: learning to notice your thoughts and feelings so you can truly experience life.
---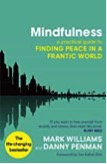 Mindfulness: A practical guide to finding peace in a frantic world
J. Mark G. Williams, Dr. Danny Penman
---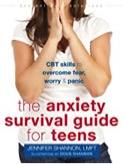 Anxiety Survival Guide for Teens: CBT Skills to Overcome Fear, Worry, and Panic
Jennifer Shannon
---

Something Bad Happened: A Kid's Guide to Coping with Events in the News
Dawn Huebner, PhD, Kara McHale
Full of advice for children who may be worried about events in the news, this guide from best-selling author Dawn Huebner offers advice for having tough conversations with 6-12 year olds about world events such as natural disasters, terrorism and war. It addresses common questions and provides tools to calm fears.